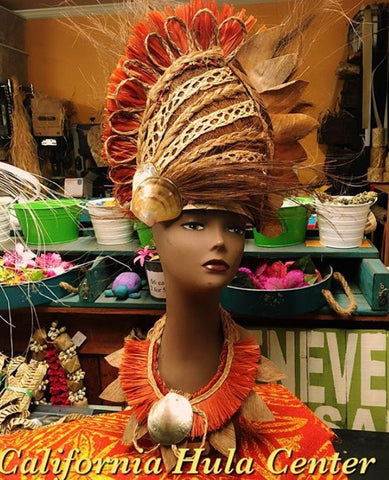 Fenua Tahitian Dry Fiber Headpiece
Fenua themed headpiece for Ori Tahiti (Tahitian Dance) is appropriate for Ra'atira Pupu, Ori Tahiti soloist, group otea or drumming...tane or vahine.  Available with or without the necklace.   Necklace has matching hau, coconut fibers and mother of pearl shells sewn onto a woven niau base that closes with a shell in loop type clasp.  Please use the dropdown menu to select which pieces you'd like.
All of my headpieces are hand and machine sewn.  There is no glue on these pieces.  You can customize any of the colors or fibers to make it your own.  Just let me know what changes you would like to make.  
Headpieces close with velcro so they adjust to fit 21-24" head measurements.  If you need it bigger, just let me know.
I make everything in the order paid.  Typical wait time varies 3-14 weeks depending on the time of year.  If you need your costume sooner, please search "rush" and add to your cart.
Check out all of my custom creations at californiahulacenter.com or on Instagram!  (User name: californiahulacenter)