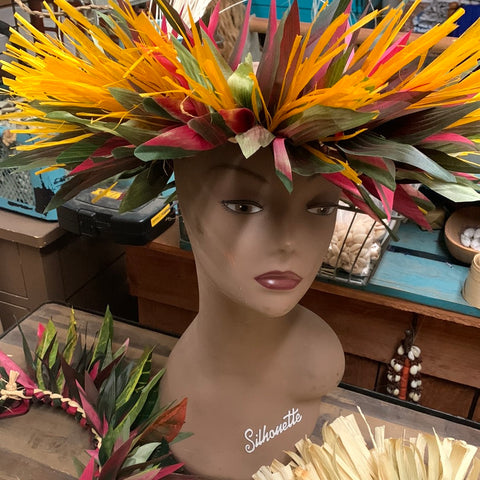 Artificial Ti Leaf & Hau Crown Tahitian Headpiece
Artificial "fresh" headpiece is made of ti leaves and hau fibers woven and braided together in a beautiful design.  Wear this for Ori Tahiti (Tahitian Dance).  Can be used for solo dancing or as a group in Otea, Aparima or Drumming.
Hau color and ti leaf colors depend on availability.  Please check with me first to make sure I have the color you need.
These lei upo'o (crown style) will fit 22-23" head measurements.  If you need it bigger or smaller, just let me know.
Completely braided...so it will last!
I make everything in the order paid.  Typical wait time varies 3-14 weeks depending on the time of year.  If you need your costume sooner, please search "rush" and add to your cart.
Check out all of my custom creations at californiahulacenter.com or on Instagram and Facebook!  (User name: californiahulacenter)