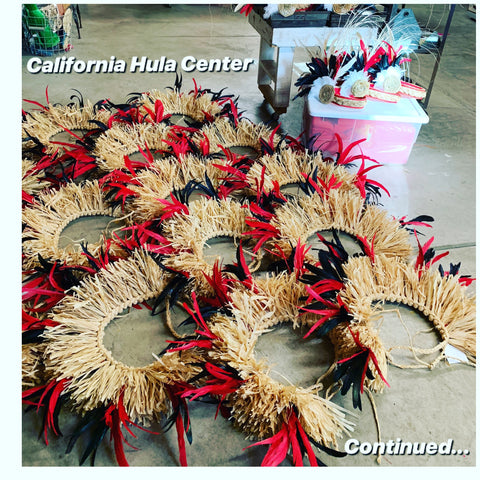 Raffia Hip Hei with Feathers
Raffia hip hei for Ori Tahiti (Tahitian Dance).  Can be used for solo dancing or as a group in Otea.  This is an upgrade to the raffia hip heis in another listing.  Only available with natural raffia, but you can choose what color feathers you'd like me to add.  Amount of clusters will vary depending on hip measurement, but will add a nice splash of color to your costume! Additional fees will apply for white feathers.  Please ask how much before you purchase.
All of my pieces are hand and machine sewn.  There is no glue on these pieces..
Hip hei is available in two options... Tahitian style meaning the raffia will go all the way around the hips or Cook Island style which means the raffia will only be on the backside. Please use the dropdown to select your hip measurement range and add a note in the memo with the actual hip measurement.
I make everything in the order paid.  Typical wait time varies 3-14 weeks depending on the time of year.  If you need your costume sooner, please search "rush" and add to your cart.
Check out all of my custom creations at californiahulacenter.com or on Instagram!  (User name: californiahulacenter)